Eram azi pe la volan într-o scurtă plimbare prin frumosul nostru București. Nițel capsat dinainte și tocma' ce înjurasem 2 dobitoci care s-au gândit că-i ok să țâșnească fără prea multă jenă de pe niște străduțe laterale. Știți voi genul ăla de zi în care dai de idioți la tot pasul și te miri cum de poate mama proștilor să fie mereu gravidă.
Ei și fix după ce trec peste-o linie de tramvai într-o intersecție dau cu roțile din față în ditai groapa (era greu de văzut că era relativ îngustă și dispusă oarecum paralel cu liniile de tramvai ). Având în vedere că n-a trecut nici o lună de când am cumpărat 2 cauciucuri noi pe față după ce unul din cele vechi a explodat când intram în București pe centură și-am fost nevoit să merg câteva sute de metri cu el așa până am putut opri (chestie care l-a futut iremediabil), groapa respectivă m-a adus la capătul răbdării și-am scos un "îmi bag picioarele în orașul pulii" (continuat și de un "bine că fut banii pe afișe electorale și pomeni și stăm cu bulevardele pline de gropi" da' să nu intrăm în politică).
Înjurătură care-a fost mai apoi îndelung comentată și disecată împreună cu tovarășa de viață care-mi stătea în dreapta. Și ne gândeam noi că "orașul pulii" ar trebui să ajungă un soi de slogan turistic pentru București așa cum este "orașul luminilor" pentru Paris. Străinii nu au habar că noi folosim organul sexual masculin într-un sens peiorativ atunci când ne referim la diverse lucruri sau pur și simplu, utilizăm substantivul ăla pentru orice prostie. Da, cam ca în celebrul sketch al lui Teo inspirat nițel mai mult din celebrul "Usage of the word fuck" și un picuț din "Filthy Words" a lui Carlin.
Îmi și imaginez afișele cu "Bucharest – Dick City", c-un penis mare semi-transparent și-abia vizibil pe fundal. Dar e acolo la nevoie. Sau eventual unul din luminițe aprinse (chiar cred că nu-i greu, și-așa nici nu merg toate luminile de pe străzi, cu puțin efort cred că putem găsi niște strazi din București ale căror lumini formează un penis erect). Vă dați seama cum se vor îngrămădi străinii pe la noi ? Toate gagicile vor veni să ne viziteze orașul în cautarea renumelui. Doar a apărut și celebra deja parodie la panoul publicitar al celor de la UKIP din Marea Britanie :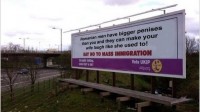 Va fi bătaie pe orașul ăsta. Așa că hai să-i clădim renumele și să ne referim la el ca atare de-acum înainte. Să-i spunem așa cum merită, "orașul pulii".  Să ne facem tricoaie. Să facem bannere publicitare și să poPULĂm renumele ăsta peste tot.